在单一协同质量保证 (QA) 环境中设计、协调和跟踪所有测试管理活动。
Complete quality assurance and testing solution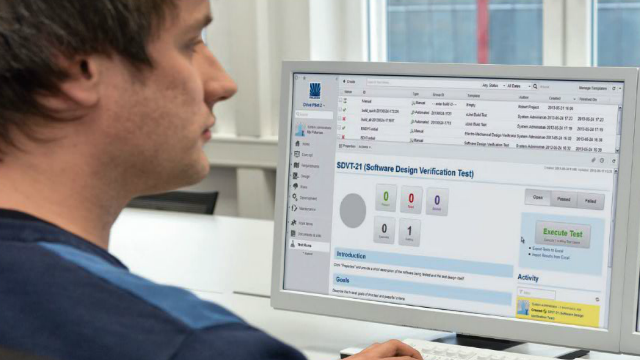 在单一协同质量保证 (QA) 环境中设计、协调和跟踪所有测试管理活动。
充分运用 Polarion 面向所有测试方法、工具和团队的一体化测试平台的灵活性。 小型团队可在单一环境中从快速团队组织中获益。 借助能够指导流程且可定制的预定义模板快速启动项目。
Manage the entire testing ecosystem with these unified test & quality management features
Automate Defect Reporting
Polarion automates error and defect tracking & reporting throughout the test execution lifecycle in one central location by automatically creating and notifying developers of defect type Work Items on test failures.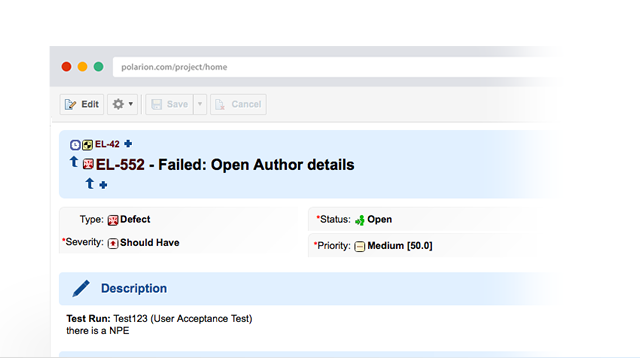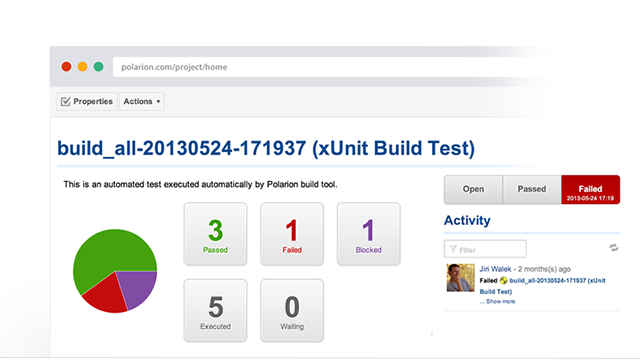 Polarion accurately and consistently automates verification and verification tasks with electronic signatures. Polarion projects can be configured with workflow control for test runs. Test run transition actions can be configured to require U.S. 21 CFR Part 11 compliant electronic signatures to verify and ensure compliance.
Polarion offers full support for third generation test automation software that deploy xUnit or jUnit testing frameworks, allowing execution to occur manually or automatically. Polarion's ability to create baseline testing templates allow test runs based derivative custom test cases.
Polarion Automation infrastructure comes with the following features to facilitate integration with xUnit.
Integration with Jenkins
Integration with build tools such as Maven2, Ant
The ability to invoke complex third party tools (open source & commercial)
Attach or link test automation scripts to test cases in Polarion QA
Automated test scripts managed in Polarion can either be executed on the local machine or scheduled for execution on a series of remote hosts.
Test Automation results can easily be captured and synchronized with Polarion test cases.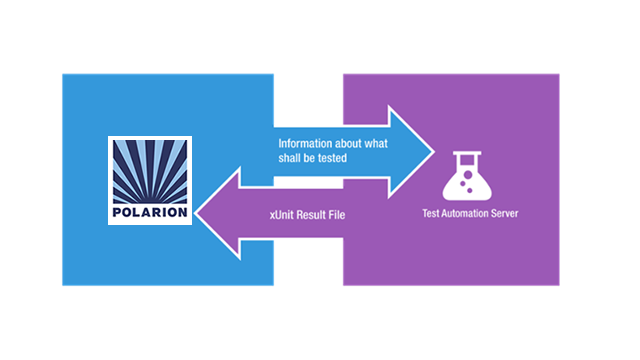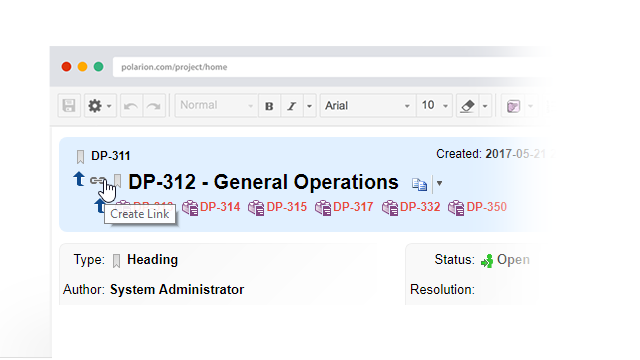 Create and Link Work Items
Create and Link Work Items together to create deep granular relationships and to perform impact analysis. Work Item Link rules are the semantics for traceability and describe how two or more linked items relate to one another. With Polarion, it is possible to employ any variation of semantic linkages to reflect any business processes. With relation to the software development lifecycle Polarion has the ability to:
Trace from requirements to the Work Items and source code that implement them
Back-trace from defective code to the task/change request that implemented the defective code and from those to the requirement that called for the functionality
Assess the impact, and by extension the cost, of a changed requirement by seeing all the artifacts that would get affected by the change
Review and analyze relationships between Work Items as dependency, relevance, parent-child, duplication and follow-up
With the Polarion parameterized testing feature, test case authors can specify generic manual test cases where test parameters can be inserted into testing steps enabling the same test case to be executed multiple times with an infinite number of variables and variations in the test procedure. Test parameters can be saved to a central library and reused by test case authors and test planners.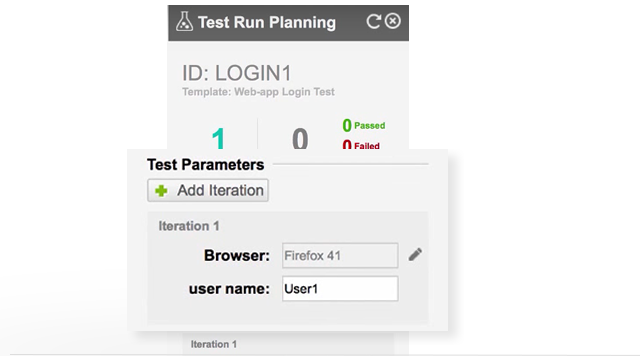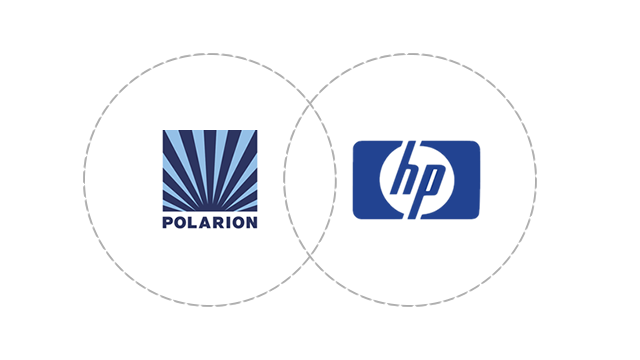 Polarion's HP QC Connector
While Polarion provides solutions that encompass all aspects of the application lifecycle, it may not always be possible or realistic for organizations to adopt Polarion solutions for the full spectrum. To that extent Polarion natively & seamlessly integrates with HP Quality Center & HP ALM for offline test management and execution.